ARTHROTHERMIA –
A novel approach for arthritis and neuro-muscular disorders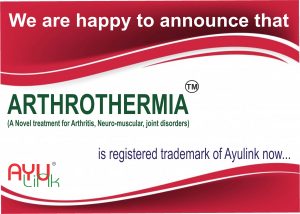 Ayulink Arthrothermia Treatment...For Patients of;
* Osteoarthritis
* Rheumatoid arthritis
* Spine related problem – Back pain, Neck pain, Sciatica
* Frozen shoulder
* DQ syndrome
* Calcaneous spur
* Neuro – Muscular disorder and all other Joint- Ligament-Muscular stiffness/ inflammatory conditions…
What is ARTHROTHERMIA?
Combining the use of (herbal) Alkaline Cautery and Indirect Thermal Micro Cautery in a precise form is developed by Dr. Prerak Shah and given name "Arthrothermia" (Patented)
Patient is more assured for most positive responses and no burns, no pain, no post-therapy complications and no need of any precautionary treatments or applications of medicines.
Less medicine or many a times no medicines (our Migraine management treatment and Arthrothermia treatments does not require any internal medicines), but maximum benefits and positive responses…that is where Ayulink is constantly focused.
Usually 4 sittings of Arthrothermia treatment course (daily / alternate / twice in a week or weekly – as suggested by our doctor), takes around 30 to 40 minutes for one joint or location), with very less and very common ayurvedic medicines + life style suggestion are generally enough to taper down modern medicines and switch over to ayurveda in short span. Usually our patients records show that  patients can enjoy life with bearable complaints and symptoms of above such diseases. 
What patient need is the TRUST and FAITH in Ayurveda.
Please have a look at research Papers on efficacy of our Arthrothermia program:

(1) "Role of Ayurveda-based 'ARTHROTHERMIA' program in the management of varioustypes of neuro-musculo-skeletal conditions : An observational study  , published in a scientific session during World Ayurveda Conference Ahmedabad (WACA2019) during 15-17 February 2019
(2) " ARTHROTHERMIA" – A revolutionary approach for Pain Management in Osteo-Arthritis"
published in World Yoga & Ayurveda Congress, Salamanca, Spain during 25-27 October 2019
Testimonials from our clients: Testimonials
For appointment, please contact us or contact any of our Franchise
Other Departments:
Indoor Patient Department
Outdoor Patient Department
Panchkarma Treatment Facilities
Migraine Treatment
Colitis Treatment
Beauty Treatment