AYULINK INTERNATIONAL Franchise Network:
Ayulink now offers     two kinds of Franchise (in India and Worldwide):
Franchise for Ayulink educational courses
Franchise for Ayulink Migraine Management Centers
Educational franchise is for individuals as well as centers who offer short term Ayurveda courses. There are two possibilities: either you offer courses which are designed by Ayulink or else you continue to offer the courses conducted by you , with due approval of Ayulink. Ayulink would help improving the technical quality of these courses and finally the certificate / diploma would be awarded by Ayulink India. This would motivate students to choose appropriate courses. Further, this kind of business association with a reputed Indian Ayurveda organization makes it more authentic for business purposes.
Migraine franchise is meant for management of migraine and can be taken even by a – non- medical person. However, there should be a qualified medical doctor available in the franchisee to offer treatment/ carry out desired procedure.  Even a simple procedure such as putting nasal drops needs one day training with us. The nasal drops will be supplied by Ayulink. It is required that proper documentation is maintained by the franchise for each client.
We invite you to join us and be a part of our worldwide network.
Please feel free to contact us at ayulink@gmail.com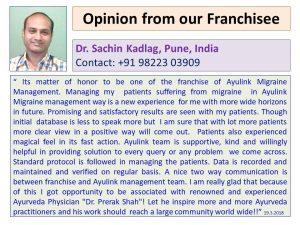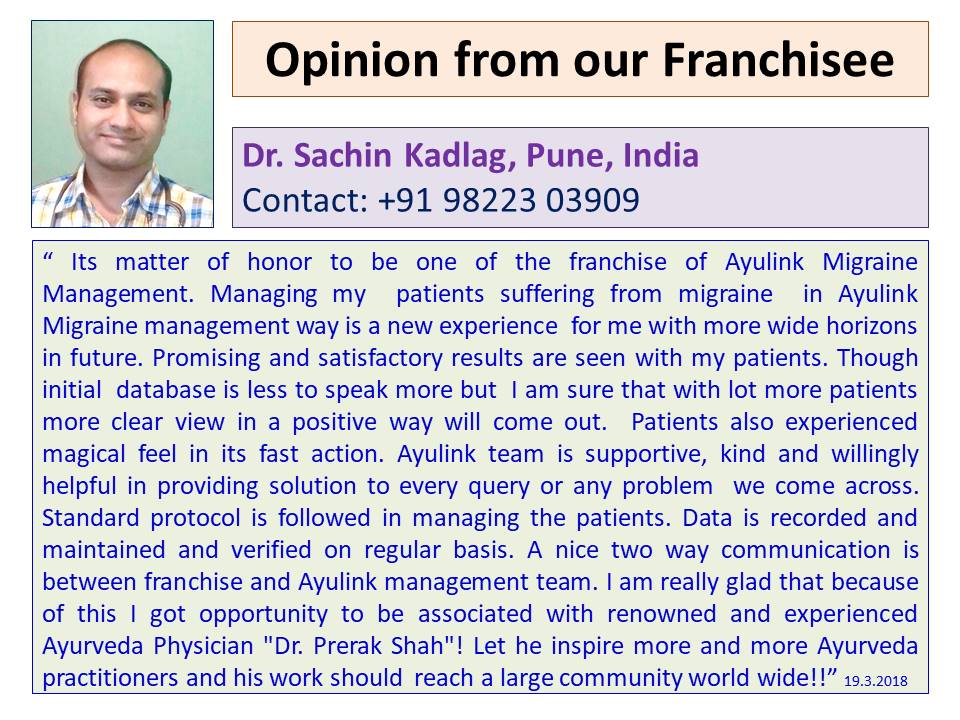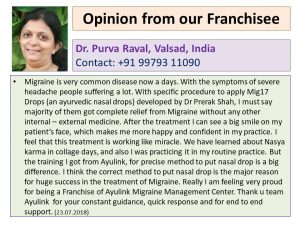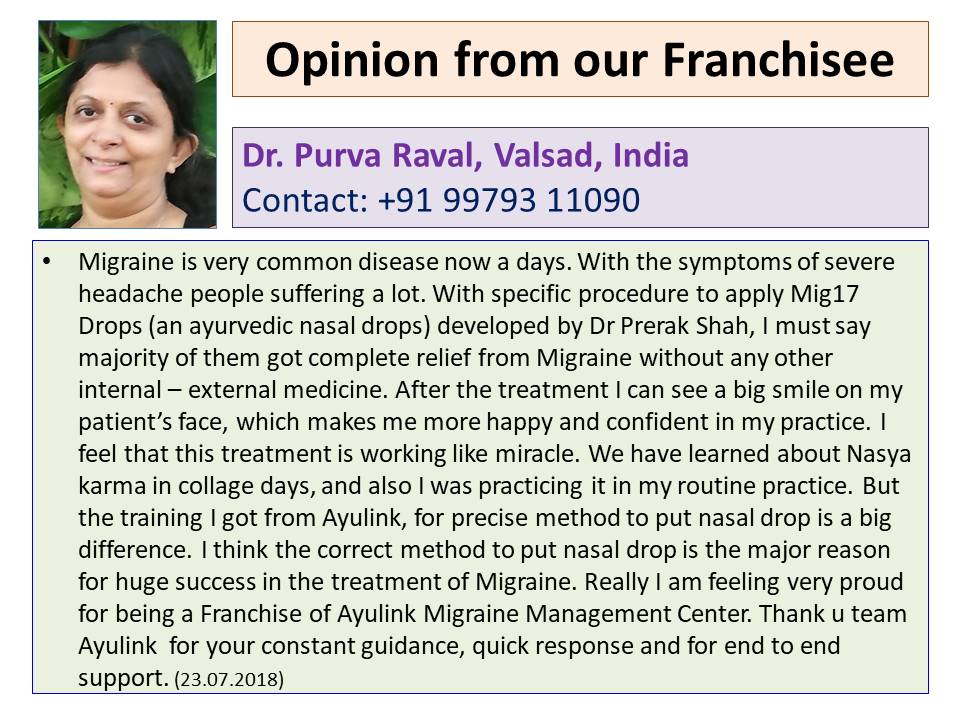 Ayulink Franchies Netwrok

Ayulink Migraine Management Centers

Ayulink Education Centers

Franchise Dr. Name

Franchise address

Contact No.

Franchise Dr. Name

Franchise address

Contact No.

National
Dr. Tushar Trivedi 
Prashaman Pain Speciality Clinic, 1st Floor, Vikram Commercial Center, Kirtistambh Road, Palanpur 
9426910461

International

Beata Horvath

Malaga, Spain
 info@biobea.com
Dr Rita Ajay Pithia
Pranam Ayurveda & Panchakarma Center, 107, first floor, Hirapanna complex, Near vailbhav railway crossing, ST bus stand road, Junagadh
9714066779
Martina Kobs- Metzger
Hamburg, Germany
 info@ayurveda-kochschule.de

Dr. Purva Raval

Ayu-Dhaam Ayurvedic Panchkarma & Ozone Therapy Hospital, 302, Royal corner, Opp. Doctor house, Halar road, Valsad 
9979311090, 9408780783
Dr. Avani Himanshu Joshi
Shatayu Ayurveda Panchkama  Hospital,  22, First floor, Seven seas complex, Near to Janta hospital, Opp Dattatray society, Patan
7016166064, 9722070006,
Dr. Sachin Sudam Kadlag
Prama Jivanalaya, 21/302 , Lokmanyanagar, L.B. S. Road , Navi Peth , Pune
9822303909

Vd. Rakesh Shah

6,Punjabhai chamber, Opp. Vasna bus stop,  Vasna, Ahmedabad
9825778840

Dr. Priti Parikh

1643, Parekh timba, Nr. CHC, 

Mahudha

, Dist. Kheda
0268-2572572

Dr. Leena Pawar

Ganesh Colony, Nr. Old Janta Sahakari Bank, Kolsewadi,

Kalyan

(E), Dist. Thane
9820508138

International

Yash Patel
Atlanta, USA
yashpatel65@yahoo.com